Anchorage's Premier Radiant Heated Driveways, Floors & Roof Deicing
Industry Leading Systems ● Local Installer Network ● Free Installation Training ● Unmatched Customer Service
For those living in the lower 48, Anchorage, Alaska seems like a far-off land that is deeply embedded in the clutches of winter for most of the year. But summer weather in Anchorage is downright pleasant, and with its annual winter snowfall of 75 inches, Anchorage is far from the snowiest U.S. city each year. (Although some places in the South Anchorage Hillside neighborhood get much more snowfall.)

However, when combined with the average winter temperature of 27°F (December thru March) the Alaskan winter still can pose its share of challenges for the hearty locals. Shoveling snow in freezing weather is never any fun – no matter how tough you are or how many times you've done it before.
Installing a radiant snow melting system is one sure way to get a leg up on the snow season. Warmzone understands the demands of Anchorage winters, which is why construction professionals can rely on Warmzone when it comes to providing the ideal radiant snow melting system for their applications. While it might take a tough breed to live in Anchorage, Alaska, it also takes a specially designed snow melting system to cope with the Alaskan temperatures and snowfall. And Warmzone has the components and expertise to design the system that not only meets your snow melting needs, but can also be tailored to fit your budget.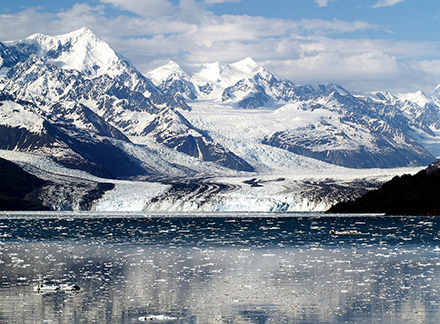 Warmzone heated driveways and snow melting systems feature ClearZone heat cable, a rugged, industry leading heat cable that is a favorite among construction professionals. Reliable and durable, it's easy to see why ClearZone snow melting systems are industry leaders.
ClearZone is a rugged twin conductor, single point connection heat cable that can be used for a variety of snow melting and heating applications. A specially designed version of the cable is also available for installation in hot asphalt applications. The heat cable features a copper metal sheath and fluoropolymer conductor insulation with a polyolefin outer sheath, and carries a 10-year warranty. ClearZone heat cable is available off the spool or pre-spaced in mats that can be rolled out for quick and easy installation. The cable is available in 3- and 4- inch spacing, as well as custom spacing if requested.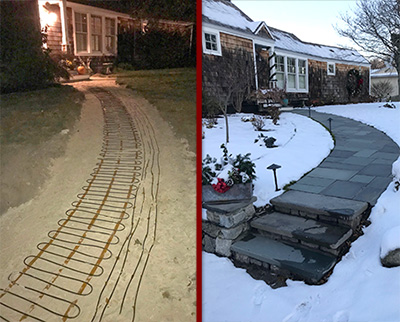 Warmzone custom designs each snow melting system to ensure that it is tailored for the specific weather conditions and layout of each application. Several factors are taken into consideration, including average temperature and snowfall of the area where it will be installed.
Heated driveways and snow melting systems are fully automated. The system relies on either an aerial mount or ground-mounted snow sensor. The sensor detects temperature and precipitation. When conditions warrant, the sensor then signals the controller/contactor panel and power is then sent to the embedded heating cables. The system shuts off after the storm has passed. (However, it remains on for a short time to dry the driveway so that ice does not form.)
The ClearZone automated snow melting systems have proven energy efficient and reliable. And because there is no longer any need to use salt or snow melting chemicals, clean radiant heat is environmentally friendly.
Warmzone also provides industry leading roof deicing solutions as well as a wide selection of radiant floor heating systems. Contact a radiant heat expert today to learn more about the many radiant heating options that are available.
Warmzone carries one of the largest selections of floor heating systems available. And each system is a proven, trusted floor heating solution. For more information about radiant floor heating and the many options that are available, contact a radiant heat professional at 888.488.9276.